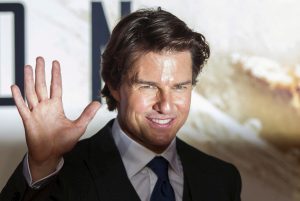 Tom Cruise is taking lessons to fly a WWII plane for stunts in his next Mission: Impossible 8 film.
Cruise, 59, prides himself on doing his own stunts for his action films.
He was spotted behind the controls of a 1943 Boeing Stearman Model 75 at the Duxford Air Museum in Cambridgeshire.
The plane – a basic military trainer – had two cameras on its wings.
The Sun newspaper reported a source who said:
"Tom had started to learn to fly a Boeing Stearman bi-plane earlier this year for a major stunt scene in 'Mission: Impossible 8'.
"It's obviously a highly skilled task but as usual he has no plans to cut any corners or bring in a stuntman.
"Filming has only just wrapped on 'Mission: Impossible 7' but Tom has not given himself a break.
"And trying to film jaw-dropping scenes with an 80-year-old plane is particularly dangerous."