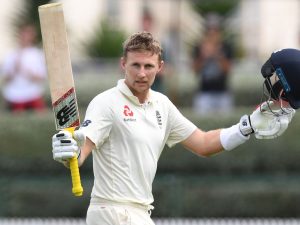 Library: Joe Root
The Ashes Test series is set to go ahead as England prepare to tour Australia this winter.
England captain Joe Root has committed to leading his side despite earlier uncertainty about Covid-19 rules.
Most England's players are reported to have agreed to tour.
However, there are said to be some doubts about Jos Buttler, Chris Woakes and Mark Wood.
They are reported as still "making up their minds" as concerns are raised over health safety.
The England and Wales Cricket Board (ECB) will decide by the end of the week on a series go-ahead.
Todd Greenberg, chief executive of the Australian Cricketers Association, said:
"For the England players, they needed some level of surety from us that what's happened in the previous three months is probably not indicative of what might happen in the next three.
"We've talked to them about that, we've talked to them about the vaccination rates, about planning with governments.
"The long and short of it, for me, is the England players have handled themselves really well, they've asked the right questions, they've been really professional in the way they've dealt with that and all credit to them.
"The reason why we've all got much more confidence than maybe we had this time last year is the level of vaccination rates across the country.
"That gives you a huge amount of confidence that the plans we've got now will be executed and we will be able to come through on the promises we've made.
"They're going to get a good result here because the conditions they'll tour in will be fantastic and we'll have a great Ashes summer."