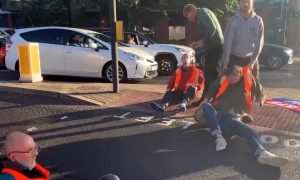 Angry motorists cleared Insulate Britain activists from blocking Wandsworth bridge.
The protesters were man-handled from the road and dragged to the kerb – allowing drivers to pass through the opening.
It's the fourth week running the demonstrators have blocked Britain's roads.
They usually target motorway junctions.
An ambulance was among the vehicles caught up in the blockade at the London bridge.
One driver is heard saying:
"There's an ambulance, you stupid p****, get out of the road."
Meanwhile, at Blackwall Tunnel in East London a woman clashed with Insulate Britain supporters as they stopped her seeing her ailing 82-year-old mother.
Amid a cacophony of horns from other angry motorists, she told them:
"She's in the ambulance, she's going to the hospital in Canterbury, do you think I'm stupid?
"I need to go to the hospital, please let me pass.
"This isn't OK… How can you be so selfish?"
The Government has sought an injunction to stop protesters – threatening jail terms for contempt of court.
However, the action has become a daily occurrence.
Insulate Britain wants the Government to insulate all of Britain's 29 million homes by 2030.
https://twitter.com/i/status/1444967088448282625