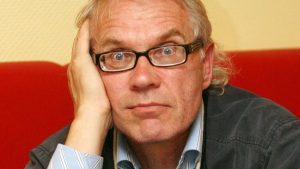 An artist who lived under a death treat after drawing a picture of the Prophet Muhammad with a dog's body has been killed in a car crash.
Lars Vilks was in a civilian police car when it was in collision with a truck in Markaryd, Sweden.
The 75-year-old artist was under police protection.
Two officers in the car also died in the crash.
The cause is still being investigated.
However, foul play is not suspected.
Vilks drew his sketch in 2007.
He had been under protection after terror group Al Qaida offered a reward for him – dead or alive.