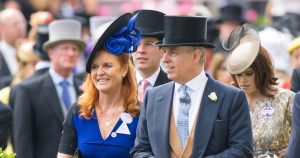 Library picture
Sarah Ferguson could be dragged into sex allegations against her former husband Prince Andrew.
The Duchess of York is likely to be subpoenaed if Andrew does not have the case against him dismissed.
He has said he will "fully engage" in the legal action as his lawyers prepare to answer the claims he's always denied.
Andrew is accused of having sex with Virginia Giuffre after being introduced to the teenager by convicted paedophile Jeffrey Epstein.
As the case gathers momentum, the Prince and his team will have to hand over personal documents and information.
A New York lawyer told The Sunday Telegraph:
"They [Giuffre's lawyers] are going to ask for the kitchen sink.
"They're going to seek every correspondence, phone logs, emails, diaries.
"They're going to go after people who were with him.
"It's going to be open season."
A trawl through such sensitive information could lead to Sarah being asked questions about Andrew and his movements at the time of the alleged incients.
Recently, the couple has spent time together at the Queen's Balmoral estate in The Highlands.