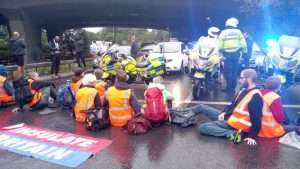 Climate change activists Insulate Britain has stopped traffic on two more motorways – the group's tenth protest in three weeks.
The group has switched from its usual target – the M25 – and blocked roundabouts on the M4 and M1.
Again, angry and frustrated drivers tussled with protesters.
One motorist grabbed protest banners.
After the police cleared the two junctions the activists returned to the M25 and glued their hands to the road surface.
One activist said:
"You think this is a traffic jam this is nothing.
"You won't have hospitals, schools or food on the shelves.
"The world and this country are going to suffer.
"It's terrible, it's apocalyptical."
Insulate Britain confirmed eight of the protesters arrested had been recently released from police custody for similar offences.
The Government has introduced legislation that could see repeat offenders jailed for contempt of court.
So far, no one has been sent to prison.
Sir Stephen House, Deputy Commissioner of the Metropolitan Police, said officers were "putting their lives at risk" policing the protests.
He said: "The most recent one I saw had officers running between articulated lorries that were moving on the main carriageway of the M25.
"We cannot be doing that.
"We cannot put people's lives at risk.
"My officers' lives at risk and indeed the demonstrators' lives at risk.
"We have to look out for that first.
"But we have been very quick in moving these people and arresting them.
"They started off on the slip roads, which is bad enough, but we've now moved on to the main carriageways of the M25, which is absolute lunacy."