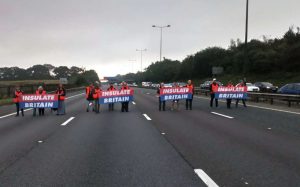 Library picture
Climate change activists Insulate Britain have blocked the M25.
It's the eight time in three weeks demonstrators have brought rush-hour traffic to a halt on Britain's busiest motorway.
The group targeted junction 30 at Thurrock in Essex.
Many have glued their hands to the road surface.
Essex police have arrested nine people.
The force said on Twitter:
"We are currently on scene of disruption on the M25 at J30 for Thurrock.
"We were called to reports of people blocking the road and officers responded within minutes.
"We are currently working to resolve the situation as quickly and safely as possible.
"We know this will be frustrating for people using the road, but we appreciate your patience and understanding."
Insulate Britain – calling for the Government to insulate all homes in Britain – have previously blocked this section of the M25.
There were scuffles as tempers flared between protesters and frustrated drivers.
The Government is looking to introduce a "blanket" injunction to stop protesters.
The new legal order would prevent having to serve injunctions on individuals.
Repeat offenders already face been jailed for contempt of court.
Insulate Britain activists have blocked a junction on the M25 for the third day this week pic.twitter.com/DeBN00Rzwk

— GB News (@GBNEWS) September 30, 2021