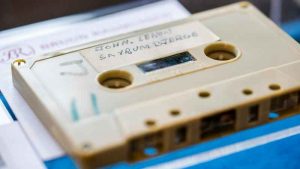 A cassette tape of John Lennon singing an unreleased song has been sold for £43,000.
The recording was made with Lennon and Yoko Ono in 1970 by four Danish schoolboys.
The 33-minutes' tape – part of a school project – was made only months before The Beatles broke up.
John and Yoko were in a remote part of Denmark on personal business when the world's press descended on them.
The couple held an impromptu press conference, and the four Danish teenagers persuaded their teacher to let them cover the story for the school magazine.
Karsten Hoejen, now aged 68, who made the recording, said:
"We were a bunch of 16-year-old hippies.
"As we arrived everyone was leaving.
"We went into the living room and saw John and Yoko sitting on the sofa, it was fantastic.
"We sat down with them and were quite close to each other.
"We talked; we had a good time.
"John asked me, 'where do you come from? A radio station?' 'No, from a school magazine,' I said."
Lennon's unmistakable voice is heard telling the boys how they could contribute to world peace.
He said: "If you can't think of any ideas yourself, imitate what we do.
"Sit down and think 'what can we do locally'?"
Hoejen asked Lennon to play a song on a guitar.
He sang Give Peace a Chance, with a few ad libs, before performing a short tune called Radio Peace.
The song was to be the signature tune for a radio station Lennon hoped to start in Amsterdam.
Hoejen said: "The radio station was never opened, and the song was never released.
"To our knowledge, the only place where this song exists is on our tape."
The precious tape was kept in a bank vault for 50 years before the schoolboys decided to sell it.
The cassette was offered with an original copy of the school newspaper and 23 photographs.
Auctioneer Alexa Bruun Rasmussen said:
"A recording like this is indeed very rare.
"We are not sure that there are any other recordings like this one, because it's an unofficial recording."