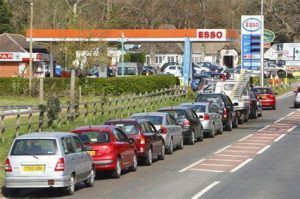 The Army is on standby to deliver fuel if needed, says Defence Secretary Ben Wallace.
Soldiers are on an "increased preparedness" level to help solve panic buying.
Army HGV drivers will be given special training before being deployed.
Mr Wallace said:
"The men and women of our armed forces stand ready to alleviate the transport pressures where they are felt most.
"That is why I have authorised their increased preparedness, so they are ready to respond if needed."
Business Secretary Kwasi Kwarteng has issued a Military Aid to the Civil Authorities (MACA) request for the armed forces to give support.
Mr Kwarteng said: "It's right that we take this sensible, precautionary step.
"The UK continues to have strong supplies of fuel.
"However, we are aware of supply chain issues at fuel station forecourts and are taking steps to ease these as a matter of priority.
"If required, the deployment of military personnel will provide the supply chain with additional capacity as a temporary measure to help ease pressures caused by spikes in localised demand for fuel."
In a joint statement from leading fuel suppliers companies urged drivers to buy fuel normally.
It said: "There is plenty of fuel at UK refineries and terminals, and as an industry we are working closely with the government to help ensure fuel is available to be delivered to stations across the country.
"As many cars are now holding more fuel than usual, we expect that demand will return to its normal levels in the coming days, easing pressures on fuel station forecourts.
"We would encourage everyone to buy fuel as they usually would.
"We remain enormously grateful to all forecourt staff and HGV drivers for working tirelessly to maintain supplies during this time."