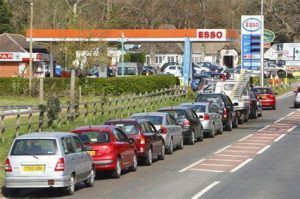 Petrol panic buying has gripped Britain as queues snaked from station forecourts.
BP has shut 20 of its stations and limited supplies to a further 100.
Meanwhile, ASDA has set a £30 limit for its customers hoping to fill up.
A spokesperson said demand was "unprecedented".
It's reported the fuel rush has prompted the Government to lift visa restrictions on foreign drivers.
However, a Westminster source has told the Independent the move might be too late to stop Christmas being disrupted.
The retail industry has warned the Government has "ten days to save Christmas".
A Downing Street spokesman said the UK had ample fuel supplies and urged people not to panic buy.