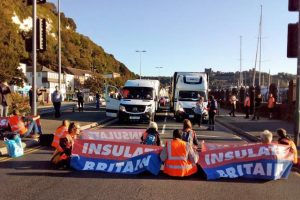 More than 40 Insulate Britain activists have blocked the Port of Dover.
Two groups of protesters have obstructed the A20 road to Europe's busiest ferry port.
Insulate Britain – a breakaway group from Extinction Rebellion – have recently brought chaos and anger by blocking M25 motorway junctions.
The group is demanding the Government insulates all Britain's homes.
A spokesperson for the group said:
"We are sorry for the disruption that we are causing.
"It is the only way to keep the issue of insulation on the agenda and to draw attention to how poorly insulated homes are causing ill health, misery and early death for many thousands of people.
"We are failing the country's cold hungry families and the elderly and placing an enormous burden on the NHS."
Earlier this week the Government was granted an injunction to jail repeat protesters for contempt of court.