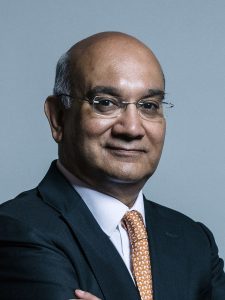 Former disgraced Labour MP Keith Vaz has been reprimanded for "sustained and unpleasant bullying" of a Commons official.
The Independent Expert Panel (IEP) said Mr Vaz should be "ashamed of his behaviour".
It added his victim – Commons clerk Jenny McCullough – suffered a "real and enduring psychological impact" from his conduct.
Ms McCullough accused Mr Vaz of bullying in 2018.
She said his conduct forced her out of her job in Parliament.
The IEP ruled Mr Vaz should be given a formal reprimand for his behaviour.
It said his conduct was "hostile, sustained, harmful and unworthy of a Member of Parliament".
The IEP also said Mr Vaz should never be allowed a parliamentary pass usually granted to former MPs.
Mr Vaz – an MP for Leicester East – served more than 30 years in the Commons.
He did not "engage" personally with the IEP inquiry, citing medical reasons.
Mr Vaz did not contest the last 2019 General Election.
He decided to stand down after being suspended for six months days before the last parliament was dissolved.
He was censored after offering to buy cocaine for male sex workers.
The Parliamentary Standards Committee said there was 'compelling evidence' Mr Vaz had offered to buy cocaine for male prostitutes.
And MPs endorsed a report denouncing him for "expressing willingness" to buy cocaine for male prostitutes.
The inquiry said the MP's ""inability to provide a single, consistent, plausible account of those events did him no favours".
The Sunday Mirror claimed Mr Vaz offered to buy cocaine for sex workers in September 2016.
The MP told the men he was an industrial washing machine salesman called Jim.
After publishing the story Mr Vaz apologised for his behaviour.
He resigned from his prestigious role as chairman of the Home Affairs Select Committee.
Kathryn Stone, the Parliamentary Commissioner for Standards, said Mr Vaz gave the inquiry many varying accounts of the evening.
In one he "declined to comment on details of his encounter" with the male prostitutes "on grounds of the medical condition of amnesia".
He then claimed the meeting was set up to "discuss interior decoration".
And, in another asserted that "a spiked drink was administered to him".
The inquiry ruled that "the welter of documentation and procedural challenges" produced by Mr Vaz were designed to "throw dust in the eyes" of the Commissioner and the Committee.
Ms Stone also decided there was "no reason" to doubt the "genuineness" of the recording of Mr Vaz with the young men.