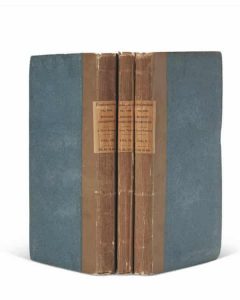 Picture: Christie's
An "exceptionally rare" first edition book of Frankenstein has been sold for £856,000.
The lot was estimated at £220,000.
Only 500 copies of the seminal work by Mary Shelley were printed in 1818.
She was aged 18 when she wrote the novel.
She'd been challenged to write a ghost story by her friend Lord Byron.
A spokesperson for Christie's said:
"The first edition in its original boards is incredibly fragile and as a result very scarce, so a copy like this, particularly in fine condition, is highly desirable to collectors.
"Overall, it's a very strong market and we are seeing increased demand for fine examples of literary high spots."
Frankenstein is regarded as one of the world's first science-fiction novels.