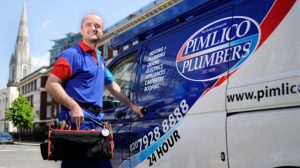 Plumbing supremo Charlie Mullins has sold his company in a deal that will make him more than £100 million.
Mullins founded Pimlico Plumbers 42 years ago.
He has now sold it to Neighborly – owned by the private equity firm KKR.
The sale is expected to be worth between £125m and £145m.
Mullins started from scratch working from the back of his van in 1979.
Today, Pimlico Plumbers has more than 400 employees.
Mullins' son Scott will stay as chief executive.
He said:
"Neighborly is well-respected across the globe as the driving force behind so many reputable brands in the home service and maintenance industry.
"Even after Pimlico's 40-plus years of independent business success, Neighborly's proven track record for growth and its commitment to its Code of Values assures that we've found a like-minded company that can help us grow.
"I would like to pay tribute to my father Charlie, for creating the business out of nothing."