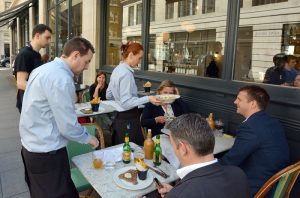 Restaurants will be stopped from keeping tips meant for the staff under new laws aimed at stopping the practice.
Business Secretary Kwasi Kwarteng is expected to announce the plan to stop bosses keeping the service charge added when customers pay by bank card.
It's thought the ploy of not passing on tips is helping to create staff shortages in the hospitality trade.
Currently, owners cannot keep cash tips left for staff.
But when someone pays with a bank card they can – if they choose – keep to money.
A change in the rules means Britain's estimated 1.7 million hospitality workers can pocket 100% of their tips.
A Whitehall source said told the Mail:
"Workers going above and beyond for their customers can now rest assured that their hard-earned tips will be going directly in their pockets and nobody else's.
"We're putting an end to dodgy tipping practices and making sure that hard work pays off.
"We are also levelling the playing field for businesses, ensuring that good firms which give all the tips to workers are not undercut by the firms which keep the money."