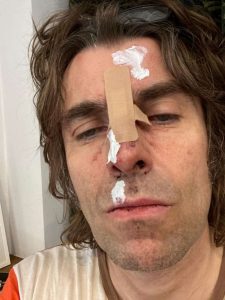 Picture credit: Liam Gallagher
Singer Liam Gallagher has posted pictures of facial injuries after he fell from a helicopter.
The former Oasis frontman had just finished his set at the Isle of Wight festival.
He wrote on Twitter:
"So check this out I fell out the helicopter last night you couldn't rite (sic) it all good who said RnR is dead Keith Moon eat your drum skin out C'mon you know LG x."
An accompanying picture showed plasters on his nose and cuts and bruises on his face.
Gallagher, 46, joked he'd fallen from 100,000 feet.
And he told one fan the helicopter footage would be in his next music video.