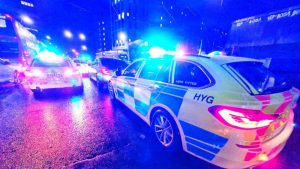 Picture: Metropolitan Police
Three people died after a car crashed into a retirement home in Notting Hill, London.
Nine people from the sheltered accommodation block were rescued by firefighters.
The car burst into flames on crashing during the early hours of the morning.
One man tried to pull people from the car but was beaten back by the flames.
The fire brigade extinguished the fire.
Three people were pronounced dead at the scene on Great Western Road.
One witness said:
"A guy who had no top on ran out and was trying to drag someone out of the car.
"There was screaming and shouting, and smoke and he was doing his best but then flames started shooting up.
"We all rang the emergency services.
"It was a terrible scene to wake up to. I just think of the poor families."
Another said:
"There were flames shooting up from the car.
"There were people on the street and all the traffic stopped.
"It was like something out of a movie.
"My kids were crying.
"It was horrific."
Manuel Gaspar, told the Standard:
"The impact was awful. There was debris spread all over the road.
"We saw a neighbour who was very brave.
"He had just woken up and didn't have a shirt on and was trying to get into the passenger door.
"All the other doors were stuck or too damaged.
"He was shouting asking the people inside if they could untie their seatbelts, but he was getting no response.
"They might have been dead already.
"The smoke was going into the old people's home and then the fire started in the back of the car."
The Metropolitan Police said no other vehicles were believed to have been involved.
A London Fire Brigade spokesman said:
"Firefighters were called to reports a car had collided with a sheltered accommodation block.
"The vehicle was alight when crews arrived.
"Crews tackled the fire and led nine people to safety from the block via an internal staircase."