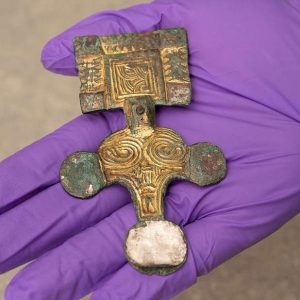 An Anglo-Saxon brooch stolen from a museum 26 years ago has been returned.
The bronze-gilt brooch was among ten items taken from the Rutland County Museum in Oakham in 1995.
The haul also included eight more brooches and a Roman gold ring.
The square shaped jewellery was returned anonymously to the Metropolitan Police.
Art records matched it to the theft in Rutland.
Councillor Lucy Stephenson said:
"The theft of these important artefacts was a huge loss to the county, and we are so pleased to have one of the items returned.
"They belong on public display so that people have the opportunity to learn about our rich and unique local history."
The other stolen items are still missing.