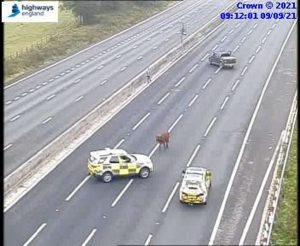 Picture: Highways England
Rush hour traffic on the M25 was brought to a stop when a cow wandered onto the motorway.
The police closed a section of the road after drivers reported seeing the animal.
It's thought the cow had escaped from a field before slowly making her way along the M25.
A farmer and highway traffic officers rounded up the cow – nicknamed Daisy – and moved her into a field.
An eye witness said:
"A cow jumped a fence and got on to the road just after 09.00 and about ten police were at the scene.
"The police held traffic for about 20 minutes to try to catch it."
The road was reopened at 09.23 – however, the knock-on effect was still causing delays more than an hour later.