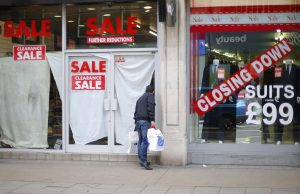 Fifty stores a day closed on Britain's High Street, retail parks and shopping centres in the first six months of 2021.
The rate of shutdowns was slower than the same period in 2020, reports accountancy firm PwC.
Figures show 8,739 shops shut across the UK in the first half of the year.
However, 3,488 opened in the same period – a net decrease of 5,251.
In 2020 as Covid-19 took hold 11,120 shops closed for a net decrease of 6,001 – 750 more than in the first six months of this year.
Lisa Hooker, of PwC UK, said:
"After an acceleration in store closures last year coupled with last-minute Christmas tier restrictions and lockdowns extending into 2021, we might have expected a higher number of store closures this year.
"Government support has proved to be a lifeline.
"However, the next six months will be make or break for many, particularly with the reinstatement of business rates, the winding down of furlough and the need for agreement on rent arrears, as well as uncertainty for hospitality businesses around further lockdowns, vaccine passports and other operating restrictions."
The study looked at more than 200,000 outlets – including retail, restaurants, banks, cafes, and gyms.
Fashion retailers were hit worst affected, with 1,063 stores closing in the first half of the year.
Second were charity shops with 452 closures, car, and motorbike outlets (428) and betting shops (337).