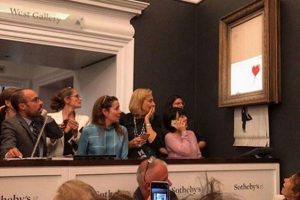 © Banksy/Instagram
A Banksy picture that was shredded the moment it was sold for £1 million is back on the market…
And this time the asking price is £6 million.
Girl with a Balloon was passed through a shredder hidden in the frame seconds after it was sold at Sotheby's in 2018.
Now renamed Love is in the Bin, it is up for sale next month.
Oliver Barker, Chairman of Sotheby's Europe, said:
"Auctions are live theatre, and as with any live production we need to prepare for all eventualities, but we were Banksyed, and you can never prepare yourself for that.
"Banksy is the ultimate art world outlaw, and in one exhilarating and shocking moment, Sotheby's became the unwitting stage for his audacious piece of performance art.
"We are looking forward to welcoming Love is in the Bin back to the very rooms where it was created this autumn!"
After the picture was shredded, it was recognised as a new work by Pest Control who authenticate Banky's art.
The Girl with a Balloon buyer, who has remained anonymous, said:
"That surreal evening three years ago, I became the accidental – but very privileged – owner of Love is in the Bin.
"It has been an incredible journey to have been part of the story of how one of the most famous artworks in the world came to be, but now it is time to let the painting go."