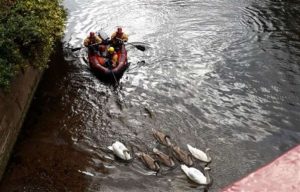 The police, fire brigade and RSPCA were all involved in rescuing a swan that had swallowed fishing line and a hook.
A passer by along the River Trent in Newark, Nottinghamshire, saw the line coming from the bird's beak.
The swan had a new brood of cygnets trailing behind.
The rescue team followed the swan by boat before managing to bring it ashore.
The hook and line were quickly removed and the swan return to her brood.
The RSPCA urged anglers to be more careful with discarded line.