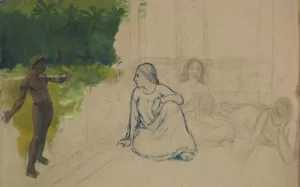 Picture: Tate Britain
A £15 million Gauguin painting owned by the Tate has been called a fake.
The picture has been withdrawn from an authoritative catalogue listing the artist's works.
The work – Tahitians – was bought by the London gallery in 1917.
It was included in the Tate's exhibition in 2010, Gauguin: Maker of Myth.
The unfinished painting was included in a catalogue raisonné – a definitive list of an artist's work – in 1964.
However, after "exhaustive work" by the Wildenstein Plattner Institute in New York it has been dropped from the latest edition.
No reason has been given.
Doubts about the picture were raised last year by French art historian Fabrice Fourmanoir.
He believes it is the work of Charles Alfred Le Moine – another painter who lived in Polynesia the same time as Gauguin.
Mr Fourmanoir told The Art Newspaper:
"It is a stereotypical colonial Tahiti scene, while Gauguin was looking for more primitive compositions.
"The details and composition of the picture are very typical of Le Moine."
A Tate spokesman said:
"The work was included by the Wildenstein Institute in the first edition of their Gauguin catalogue raisonné in 1964 and Tate was not contacted prior to the publication of their latest edition.
"We recognise there has been ongoing research into Gauguin's work in recent years, so we will keep the work under review and retain an open mind about any research that might help cast familiar works in a new light."