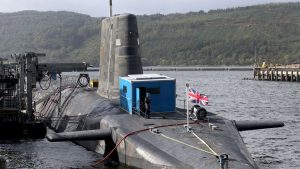 Library: HMS Vengeance, Faslane
Britain's nuclear deterrent could be moved abroad if Scotland wins independence, it is claimed.
The nation's nuclear base is at Faslane on Scotland's west coast.
However, sources have told the Financial Times it could move to America or France if Scotland's votes "yes".
The newspaper also reports the Ministry of Defence (MoD) could create a British Overseas Territory and keep the submarines in Scotland.
The Scottish Government says it is committed to the "safe and complete withdrawal of Trident" from Scotland.
The FT cites "several senior officials" who have been briefed on the proposal.
It says the preferred choice would be to move the nuclear deterrent to the Royal Navy base at Devonport in Plymouth.
But allied naval bases in America and France are also being considered.
An MoD spokesman said:
"The UK is strongly committed to maintaining its credible and independent nuclear deterrent at HM Naval Base Clyde, which exists to deter the most extreme threats to the UK and our NATO allies.
"There are no plans to move the nuclear deterrent from HM Naval Base Clyde (Faslane), which contributes to Scotland's and the wider UK's security and economy, and its supporting facilities are safe for local communities."
A Scottish Government spokeswoman said:
"The Scottish Government firmly oppose the possession, threat and use of nuclear weapons and we are committed to the safe and complete withdrawal of Trident from Scotland."