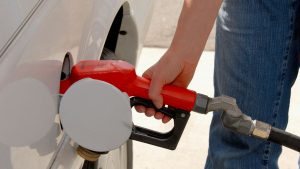 The last gallon of leaded petrol has been sold at a filling station.
The world's last remaining stocks have been used up.
The sale marks the end of the 19-year campaign to stop using the fuel which poses major health and environmental risks.
Algeria was the only country left with stock.
The campaign to eradicate leaded petrol was started by the U.N.'s Environment Programme (UNEP).
UNEP said the petrol contaminates air, soil and drinking water and can cause heart disease, stroke and cancer.
Some studies have shown it harms brain development, especially in children.
UNEP's executive director Inger Anderson said:
"Leaded fuel illustrates in a nutshell the kind of mistakes humanity has been making at every level of our societies.
"Those mistakes had driven climate change pollution and a loss of biodiversity.
"However, humanity can learn from and fix mistakes that we've made."
Lead was added to petrol in the 1920s to make cars go faster.
It started to be phased out 50 years ago – but by the 2000s more than 85 countries were still using leaded gasoline.