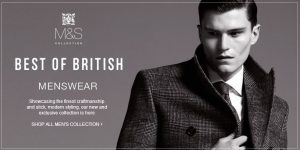 Marks and Spencers has stopped selling suits in most stores as more people are working from home.
The new dress code for workers is chinos and elasticated joggers.
The formal suit is no longer de rigueur.
Sales of suits has dropped by 72 per cent since the pandemic started.
M&S now only stocks suits in 110 of its 254 branches across Britain.
According to M&S, in the year to April, sales of formal wear were down by 15 per cent online and 72 per cent in stores compared to the previous year.
During the same period, sales of casualwear were up 61 per cent online, and the store now stocks men's joggers to keep up with current trends.
Wes Taylor, director of M&S menswear, said:
"During the pandemic we worked hard to adapt our product offer to be more relevant to customers' rapidly changing needs.
"Covid hit fast forward on the trend to more casual dressing that was already in train so our smart wear is now more focused on smart separates — easy to wear, stylish smart clothing that can be worn in lots of different ways.
"However, we still want to be the go-to for a great suit whatever the occasion."