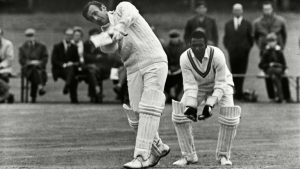 Fearless former England cricket captain Ted Dexter has died. He was aged 86.
Dexter – known as "Lord Ted" – led his country 30 times.
He was one of England's greatest ever cricketers.
An MCC statement said:
"After a recent illness Ted passed away peacefully in the Compton Hospice in Wolverhampton, surrounded by his family.
"Ted was a cherished husband, father and grandfather and one of England's greatest ever cricketers.
"He was captain in 30 of his 62 Test matches and played the game with the same sense of adventure and fun that captures much of the story of his remarkable life."
Dexter – a flamboyant and powerful middle order batsman – played for England 62 times.
He scored 4,502 runs – including nine Test centuries – and took 66 wickets.
He was renowned for his fearless approach to batting when taking on the fast bowling attacks of the West Indies and Australia.