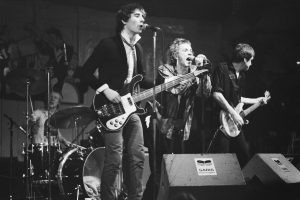 Sex Pistols singer Johnny Rotten has lost a High Court battle with ex-band mates to stop their hits being used in a television show.
The seminal punk group's former drummer Paul Cook and guitarist Steve Jones wanted to use the music in a series of films.
But Rotten – real name John Lydon – opposed the move.
In London's High Court, Sir Anthony Mann ruled Cook and Jones were entitled to involve "majority voting rules" against their bandmate.
The music would be included in a six-part series – Pistol – directed by Oscar winner Danny Boyle.
The film is based on Jones' memoirs.
Both Cook and Jones welcomed the ruling.
In a joint statement they said:
"It brings clarity to our decision-making and upholds the band members' agreement on collective decision-making.
"It has not been a pleasant experience, but we believe it was necessary to allow us to move forward and hopefully work together in the future with better relations."
During the hearing Jones and Cook said the band had an agreement made in 1998 that licence requests can be decided on a "majority rules" basis.
However, Lydon said the licences could not be issued with his say-so.
Lydon told the court the agreement "smacks of some kind of slave labour".
He added he had a "deep-felt and passionate aversion to becoming a 'prisoner' of a hostile majority".
The judge said the fact that Lydon signed the agreement "is completely inconsistent" with those arguments.
He added: "For present purposes it is relevant to note that he must have made an informed decision to sign it and – if it is a shackle – to shackle himself."
He said it is "impossible to believe" that Lydon did not understand what he was signing given that he had an English lawyer, a US attorney, and a manager to advise him.