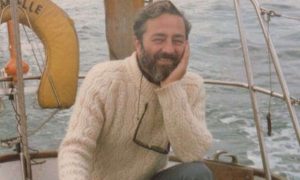 Peter Corby – the man who invented the ubiquitous trouser press – has died.
He was aged 97.
The Corby is still a common feature in hotels around the world.
The model is made in Britain and sold to 60 countries.
It has also become the focal point of social history.
During the 2009 MPs expenses scandal leading Liberal Democrat Chris Huhne claimed £119 for a new press.
He did repay the money – claiming it was an "Alan Partridge moment".
The comment comes from the tv sketch when Steve Coogan – playing his alter-ego Alan Partridge – passes the time in a hotel by taking apart the Corby trouser press.
Peter Corby came up with the idea of a heated trouser press after a chance meeting with a Concorde engineer in the 60s.
The engineer explained to the budding entrepreneur how he could make the trouser press heating pads work.