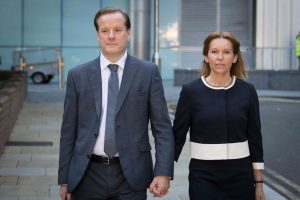 A disgraced Tory MP jailed for three sexual assaults is to be released after serving half his two-year-sentence.
Former Dover MP Charlie Elphicke, 50, can be freed next month after his wife agreed he could return to the family home.
At the end of Elphicke's trial his wife Natalie said their marriage was over and she was seeking a divorce.
She later stood – and won the seat – as the Tory candidate in the 2019 General Election after her husband was suspended from the party.
Elphicke was jailed for assaulting a woman who worked for him and a parliamentary worker.
He grabbed one, kissing her, groping her breast, and chasing her around his Belgravia townhouse singing "I'm a naughty Tory".
The judge said Elphicke,50, was a "sexual predator who used (his) success and respectability as a cover" to sexually abuse the women.
Mrs Elphicke, 50, told the Daily Mail she has filed for divorce.
She said: "Charlie has apologised for his behaviour and will have served a year in prison.
"It is now for him to build a new life for himself and his son, who we continue to co-parent.
"I hope he will be given the space and privacy to do that.
"Charlie and I are separated. I have filed for divorce.
"We will be making arrangements after he has served his sentence to reflect this."