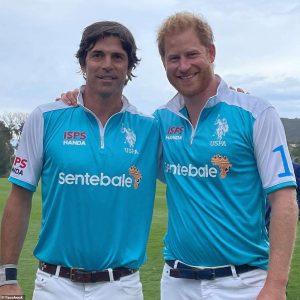 Picture: Facebook. Nacho Figueras posted a photo of himself and Harry
Eco warrior Prince Harry took a private jet home after playing in a polo match.
He was a passenger on a 20-seat £45 million Gulfstream jet.
It was a two-hour 750 miles flight from Aspen in Colorado to Santa Barbara in California.
Harry, 36, and his family – wife Meghan, son Archie and daughter Lilibet – live in nearby Montecito.
The eco-busting flight comes only months after the Prince said climate change was one of the world's "most pressing issues".
Royal author Tom Quinn criticised the decision to board the jet said to be owned by Marc Ganzi,   one of Prince Harry's polo chums.
Quinn said:
"This appears to be enormously hypocritical, given all his talk about climate change.
"Harry seems to see himself as someone who guides the rest of the world and that his own behaviour isn't relevant.
"It is a huge blind spot."
Prince Harry and Meghan Markle often use private jets.
In one year, it is reported they took six private jet round trips.
However, previously the Prince, has said:
"I believe even more that climate change and mental health are two of the most pressing issues that we're facing."
"With kids growing up in today's world, pretty depressing, right, depending on where you live, your home country is either on fire, it's either underwater, houses or forests are being flattened."
Harry appeared at the polo event for his charity Sentebale, which helps children affected by HIV in Africa.