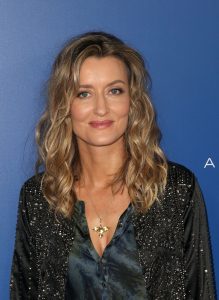 Natascha McElhone
The Crown is said to be filming the close friendship between Prince Philip and family friend Penny Knatchbull in its next series.
The storyline is reported to have caused concern at Buckingham Palace.
The Prince and Ms Knatchbull have always insisted they were just good friends.
The part of Ms Knatchbull will be played by Natascha McElhone.
A source told The Sun newspaper:
"This is a relationship which naturally raised a few eyebrows and sparked quite a few whispers, but Philip and Penny maintained they were just friends.
"The makers of The Crown believe it is a relationship worthy of exploring and casting a veteran actor like Natascha is a reflection of how high profile the role is.
"But the highly personal relationship is unlikely to be welcomed as a storyline by Her Majesty or the rest of the Royal Family."
Netflix has confirmed Ms McElhone will play the part of Penny Knatchbull in the next series.