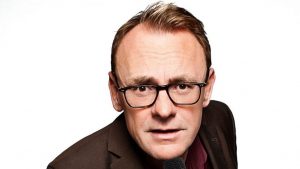 Award winning stand-up comedian Sean Lock has died. He was aged 58.
Lock was a regular panellist on 8 Out Of 10 Cats, Have I Got News For You and Q1.
He was diagnosed with skin cancer in his early 20s.
He joked he worked as a builder in the sun – adding he couldn't ask a burly Irish foreman to "rub in some Ambre Solaire".
A statement from his agent said:
"It is with great sadness that we have to announce the death of Sean Lock.
"He died at home from cancer, surrounded by his family.
"Sean was one of Britain's finest comedians.
"His boundless creativity, lightning wit and the absurdist brilliance of his work marked him out as a unique voice in British comedy.
"Sean was also a cherished husband and father to three children.
"He will be sorely missed by all that knew him."
Close friend and fellow comic Lee Mack said:
"I've known this day was coming for some time, but it's no less heart-breaking.
"A true original both in comedy and life.
"I will miss him so much."
Harry Hill said Lock kept a sense of humour to the end.
He said: "He took his illness in typically dry style.
"I heard he was in a hospice for a bit of rest.
"I called him up. 'Wow!' I said, 'A hospice, what's that like?' 'It's ok,' he said, '…and the sex is amazing.'"