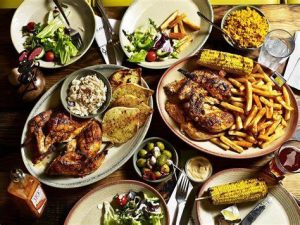 Food chain Nando's has closed restaurants and cut hours after its chicken deliveries were hit by the lorry driver shortage.
More than 50 outlets have shut as the firm can't supply its favourite dish Peri Peri Chicken.
The company blamed a lack of HGV drivers, and the "pingdemic" causing a staffing problem.
On Twitter, the company said:
"The UK supply chain is having a bit of a 'mare right now.
"This is having a knock-on effect with some of our restaurants across England, Scotland and Wales.
"We are doing everything we can to get the peri-peri back where it belongs – on your plates."
A Nando's spokesman said:
"The UK food industry has been experiencing disruption across its supply chain in recent weeks due to staff shortages, and a number of our restaurants have been impacted.
"However, we can confirm that from today Nando's will be lending 70 of our brilliant team members to support our key suppliers – working in partnership to help get things moving again."
It's thought there is a shortage of 100,000 HGV drivers in the UK.
Many EU drivers have returned home, others have been quarantined by the "pingdemic", and Covid-19 virtually ended all lorry driver training last year.