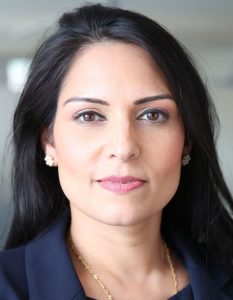 Home Secretary priti Patel
The British Government will take in up to 20,000 Afghan refugees, Home Secretary Priti Patel has said.
The plan will see 5,000 Afghans eligible to come to the UK in the first year.
Women and girls will be given priority.
The new plan will run alongside the current scheme to gave haven to Afghans who have worked for the UK in Afghanistan.
Ms Patel said:
"We could end up bringing many more [than 20,000] but first of all we have to have the underpinning and the infrastructure and the support to do that.
"It would be terrible quite frankly to bring people and not be able to give them the support that they would need in terms of accommodation, resettlement and giving them the opportunity to build a new life in the UK."
The government has stressed the scheme would "not compromise on national security".
It has promised all those arriving will have to pass "strict security checks".
Prime Minister Boris Johnson spoke to American President Joe Biden about the evacuation of Kabul.
A Number 10 spokesperson said:
"They resolved to continue working closely together on this in the days and weeks ahead to allow as many people as possible to leave the country."