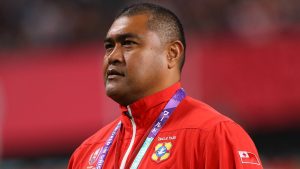 Rugby World Cup-winning forward Toutai Kefu has been seriously injured during a "brutal and violent" break-in at his home.
The Wallabies number eight has had surgery for a knife wound to his stomach.
His wife, son and daughter were also injured in the attack at their home in Brisbane.
It's reported three young men broke into the property in the early hours of the morning.
Queensland state police Detective Superintendent Tony Fleming said the altercation was "brutal and violent".
It allegedly involved an axe and knives.
Mr Fleming said one member of the household woke and was confronted by at least one of the intruders.
He added: "Other members of the family then came to that person's aid and during that time very significant injuries occurred to the family".
Kefu's condition is "critical" but he was expected to survive.
Mr Fleming said it did not appear to be a targeted attack.
Neighbours held a 15-year-old youth before the police arrived.
The boy with four counts of attempted murder, three counts of assault causing grievous bodily harm and one count each of unlawful use of a motor vehicle, break and enter, burglary and deprivation of liberty.
Another 15-year-old boy was taken into police custody after seeking treatment at a hospital.