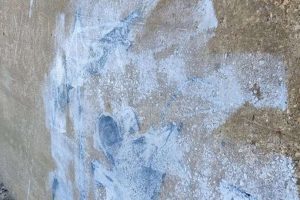 A Banksy mural on a seaside wall has been vandalised only two days after the artist confirmed it was his work.
The picture showed a rat reclining in a deck chair with an umbrella and sipping a cocktail.
Residents in Lowestoft, Suffolk, hoped the artwork would attract tourists to the resort.
However, overnight the picture was painted over with white emulsion.
It's not t known if the paint can be safely lifted from the drawing.
Richard Girling said:
Mr Girling said: "We live about half a mile from the rat artwork and walk the dog in the area daily.
"We walked by the rat at about 6:30 pm yesterday evening and it was fine. A steady stream of people were arriving to take pictures of the artwork.
"We saw on Face book at around midnight that it had been defaced. Walked down there this morning to see the extremely sad sight."
Mr Girling spoke to a woman trying to clean the picture.
He said: "This was the first Banksy she had seen.
"She was so distressed she went home and got some cleaning equipment.
She was being very careful, and it looked like the white paint was very slowly coming off."