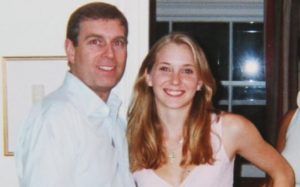 Police chief Dame Cressida Dick has insisted "no one is above the law" when asked about sexual assault allegations against Prince Andrew.
Dame Cressida said she would not discuss individual cases but confirmed a review of the case  is under way.
The Metropolitan Police have already carried out two reviews into the claims by six women.
The Prince is currently in Balmoral with his mother The Queen, and former wife Sarah Ferguson.
He denies all allegations.
Dame Cressida told Nick Ferrari of LBC:
"No one is above the law.
"It's been reviewed twice before, we've worked closely with the CPS (Crown Prosecution Service), we are of course open to working with authorities overseas, we will give them every assistance if they ask us for anything within the law obviously.
"As a result of what's going on I've asked my team to have another look at the material."
Concerning the allegations against Jeffrey Epstein she said:
"The position there is that we've had more than one allegation that is connected with Mr Epstein, and we have reviewed those, assessed those and we have not opened an investigation.
"We have concluded that there is no investigation for us to open and we haven't.
"We have taken advice from the Crown Prosecution Service…and I am clear that that was…the right decision.
"I'm aware that currently there is a lot more commentary in the media and the apparent civil court case going on in America and we will again review our position."
Virginia Roberts Giuffre claims she suffered "intentional infliction of emotional distress" following the alleged rape by the Prince.
Ms Giuffre was a 17-year-old victim of sex trafficker Jeffrey Epstein.
He hanged himself in prison.
A spokeswoman for Prince Andrew replied "no comment" when asked about the lawsuit.
Ms Giuffre, now 38, claims she was recruited by British socialite Ghislaine Maxwell – a former girlfriend of Epstein.
Ms Maxwell, daughter of disgraced press baron Robert Maxwell, is currently in prison awaiting trial.
She has denied the allegations – as has Prince Andrew.
The lawsuit seeks unspecified compensatory and punitive damages against Prince Andrew
The lawsuit claims:
"Twenty years ago, Prince Andrew's wealth, power, position, and connections enabled him to abuse a frightened, vulnerable child with no one there to protect her.
"It is long past the time for him to be held to account."
Ms Giuffre claims Epstein forced her to sleep with the Prince on a number of occasions.
Although above the legal age of consent in the UK, she would have been considered a child under 18.
Ms Giuffre said in a lawyer's statement:
"I am holding Prince Andrew accountable for what he did to me.
"The powerful and the rich are not exempt from being held responsible for their actions.
"I hope that other victims will see that it is possible not to live in silence and fear, but one can reclaim her life by speaking out and demanding justice."
"I did not come to this decision lightly.
"As a mother and a wife, my family comes first. I know that this action will subject me to further attacks by Prince Andrew and his surrogates.
"But I knew that if I did not pursue this action, I would be letting them and victims everywhere down."