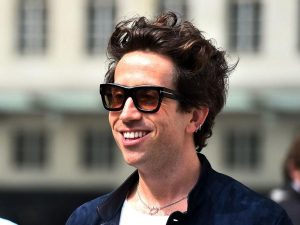 Radio One DJ Nick Grimshaw broke down in tears during his last show for the BBC.
The star had been with the broadcaster for 14 years.
At the start of his show the 36-year-old Grimshaw said:
"We are here for my final show on Radio One – and I feel the weirdest ever.
"I just want to have a fun show. I'm going to play you some of my favourite songs I've just loved playing on Radio One over the years.
"It was my childhood dream; I've had the time of my life."
Afterwards he added:
"I do feel happy you know, not like happy to get out of here, but it's weird making the decision and thinking about it.
"And then it was weird not telling anyone and, then when I announced it on the radio and we spoke about it and I had a few weeks to process it, well it feels like the right thing to do. It feels exciting."