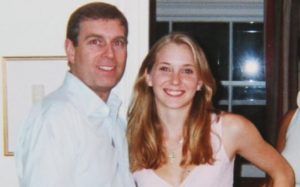 Prince Andrew and Ms Giuffre 2001
A woman has filed a lawsuit against Prince Andrew seeking damages for alleged sexual abuse when she was teenager.
Virginia Roberts Giuffre claims she suffered "intentional infliction of emotional distress" following the alleged rape.
Ms Giuffre was a 17-year-old victim of sex trafficker Jeffrey Epstein.
He hanged himself in prison.
A spokeswoman for Prince Andrew replied "no comment" when asked about the lawsuit.
Ms Giuffre, now 38, claims she was recruited by British socialite Ghislaine Maxwell – a former girlfriend of Epstein.
Ms Maxwell, daughter of disgraced press baron Robert Maxwell, is currently in prison awaiting trial.
She has denied the allegations – as has Prince Andrew.
The lawsuit seeks unspecified compensatory and punitive damages against Prince Andrew
The lawsuit claims:
"Twenty years ago, Prince Andrew's wealth, power, position, and connections enabled him to abuse a frightened, vulnerable child with no one there to protect her.
"It is long past the time for him to be held to account."
Ms Giuffre claims Epstein forced her to sleep with the Prince on a number of occasions.
Although above the legal age of consent in the UK, she would have been considered a child under 18.
Ms Giuffre said in a lawyer's statement:
"I am holding Prince Andrew accountable for what he did to me.
"The powerful and the rich are not exempt from being held responsible for their actions.
"I hope that other victims will see that it is possible not to live in silence and fear, but one can reclaim her life by speaking out and demanding justice."
"I did not come to this decision lightly.
"As a mother and a wife, my family comes first. I know that this action will subject me to further attacks by Prince Andrew and his surrogates.
"But I knew that if I did not pursue this action, I would be letting them and victims everywhere down."