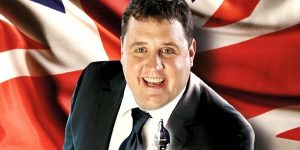 Comedian Peter Kay received a standing ovation as he made his return to a live audience after a four-year absence.
The Bolton comic quipped as he walked onto the stage at the Manchester Apollo:
"I've never in my life had a standing ovation when I came on.
"I'm going to go away for four more years."
Kay was taking two Q&A sessions called "Doing it for Laura" before a packed house of 3,500 fans.
Tickets for the show sold out within 30 minutes of being offered.
Kay unexpectedly cancelled touring and all other projects in 2017.
He said it was due to "unforeseen family circumstances".
Kay's return to the stage was in aid of Manchester student Laura Nuttall.
She has been diagnosed with an aggressive form of brain cancer.
At the Apollo, her sister Gracie introduced Kay.
She told the crowd her family was "eternally grateful" to them for "potentially saving my sister's life".
An absolute pleasure seeing @peterkay_co_uk this afternoon. At his best and didn't put a foot wrong. The king is back 👑 pic.twitter.com/0F2vdHvk4I

— Sheldan Keay (@SheldanKeay) August 7, 2021