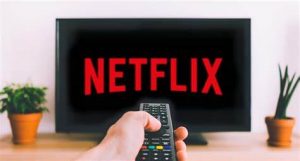 More than half of British households have signed up to streaming behemoth Netflix.
Netflix is now the UK's preferred pay-for channel.
Figures reveal 52% of households have the service.
The dramatic rise comes as traditional channels have slumped.
Broadcasting watchdog Ofcom found 2020 was a a "landmark year for subscription video-on-demand, both in the UK and internationally.
The report added that "the jump was the biggest annual increase yet".
As the pandemic forced the UK into a lockdown subscription to Netflix soared by three million in a year.
Worldwide the service brought in 300 million extra viewers – giving it 1.18 billion subscribers worldwide.