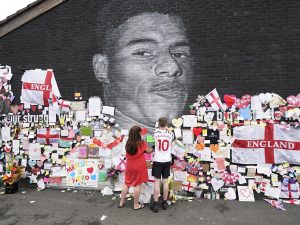 The police have arrested 11 people in connection with online racial abuse aimed at England's Euro 2020 players.
The final against Italy came down to penalties.
Marcus Rashford, Jadon Sancho, and Bukayo Saka all missed their spot kicks – prompting a torrent of social media abuse.
The people arrested are aged between 16 and 63.
Three live in London and two in Christchurch, Dorset.
The others are from Runcorn, Cheshire; Sale, Greater Manchester; Folkestone, Kent; Reading; Shrewsbury and Worcester.
All have been either released pending further inquiries or bailed to return later.
Britan's Football Policing Unit said 207 social media posts were criminal.
Thirty-four of those accounts were in the UK.
More than 120 were in other countries.
The details of account holders outside the UK have been passed on to the relevant countries.
Social companies have yet to provide information about the other 50 account holders.