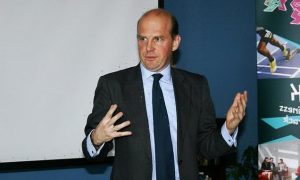 Angus Lapsley
A senior civil servant tipped to be the UK Ambassador to NATO left sensitive MoD documents at a bus stop.
Angus Lapsley has been named as the man responsible for the loss of the papers.
Some had sensitive information about the Royal Navy's passage through disputed territorial waters off Crimea.
The pile of paperwork was found in Kewnt by a passer-by last June.
They were handed in to the BBC.
Two Government sources have named Mr Lapsley.
He has since been moved from the MoD to the Foreign Office.
It is thought unlikely he will become ambassador to NATO, the Guardian newspaper reported.
A Whitehall source told the paper:
"The document should not have been taken out of the building in this way and in this case."
The Foreign Office said:
"The individual concerned has been removed from sensitive work and has already had their security clearance suspended pending a full review."