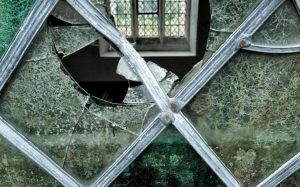 A medieval church has been vandalised only days after a £150,000 nine-months' restoration.
St Mary Magdalene in Caldecote, Hertfordshire, had been re-opened for ten days before vandals broke in.
They smashed windows and set off powder fire extinguishers.
They also poured bleach on the alter and pews – causing thousands of pounds worth of damage.
Religious items were also damaged.
Friends of Friendless Churches spent £150,000 on the renovation.
The charity fixed the roof – already damaged by lead thieves – and repaired seating.
The oldest part of the church has a Norman window.
The lower walls date back to the 11th Century.
Rachel Morley, director of Friends of Friendless Churches, said repairs to the windows alone would cost £5,000.
Ms Morley said: "It just seems so pointless.
"I can't understand why somebody would want to do that, but obviously [they] got a thrill from doing it.
"I've been in this job for four years and this is the first example of anything like this that I've experienced.
"As soon as it's clean and looking good again it will be open again every day for visitors.
"When you attract genuine visitors, I think it's a really good deterrent for these things happening."