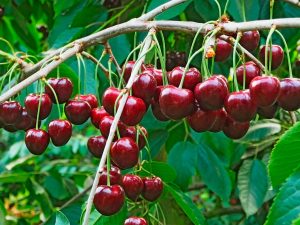 A bumper crop of British cherries is set to hit the market.
The massive yield was helped by July's hot weather.
The turnaround comes after growers thought earlier spring cold and rain would hamper output.
Tesco has ordered an extra 115 tonnes of the fruit.
Other supermarkets are expected to follow suit.
Lee Turner of Kent-based FGA Farming, the UK's largest cherry grower, said:
"The recent hot weather has really helped the cherry trees develop and produce super sweet fruit.
"For the next two to three weeks the UK will be getting an abundance of super sweet, classic British cherries.
"It's a total contrast to what we were experiencing back in April and May which, because of the unseasonal weather, resulted in a far colder start to the cherry growing season than usual.
"This meant that the cherry trees were dormant for longer and pushed the start of the season back by up to three weeks but helped the trees build energy and potential resulting in the high-quality fruit coming through now."
British growers are expected to pick more than 6,000 tonnes of cherries this year – double the harvest in 2018.