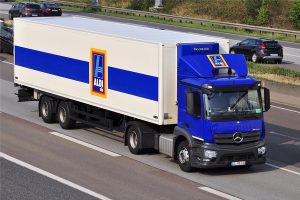 Aldi has joined other supermarket chains and increased its pay rates for HGV drivers.
A chronic lack of lorry drivers has caused disruption and delays in supply chains.
It is reported Aldi is understood to have pushed through a wage rise to maintain its position as the highest payer in the industry.
It also hopes to prevent other companies poaching its drivers.
The Road Haulage Association (RHA) has estimated there is a shortage of 100,000 HGV drivers across the UK.
The industry has been hit by several factors – mainly Brexit rule changes and the Covid-19 pandemic.
More than 30,000 HGV driving tests did not take place last year.
And, many drivers have been "pinged" by the NHS app and told to self-isolate.