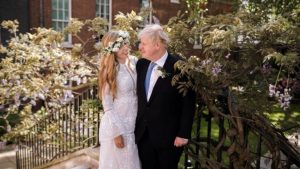 Carrie Symonds – the wife of Prime Minister Boris Johnson – is expecting the couple's second child.
The pregnancy was revealed when Carrie, 33, posted the news to Instagram.
She wrote:
"Hoping for our rainbow baby this Christmas.
"At the beginning of the year, I had a miscarriage which left me heartbroken.
"I feel incredibly blessed to be pregnant again, but I've also felt like a bag of nerves."
It will be Mr Johnson's seventh child.
He and Carrie have a one-year-old son Wilfred.
The couple were secretly married in Westminster Cathedral at the end of May last year