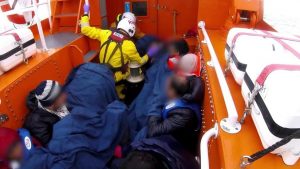 Picture: RNLI
The RNLI has received a "tidal wave" of support following allegations it was helping migrants cross the Channel.
The lifeboat charity has seen its coffers swell by more than £200,000 in donations after it posted rescue footage on social media.
Nigel Farage said the RNLI was being used as a "taxi service for illegal trafficking gangs".
The RNLI had spoken out about its volunteers being verbally abused for helping the migrants.
Within hours the charity's donations rose more than 270%
RNLI chief executive Mark Dowie said the migrant crisis was a "polarising issue".
But he added lifeboat crews carry out "humanitarian work of the highest order".
Mr Dowie said:
"All decent people will see this as humanitarian work of the highest order.
"Crews should not have to put up with some of the abuse they received."
In a statement on Thursday, the RNLI said the surge in donations in the last 24 hours was "simply incredible".
It said it had benefited from a combination of one-off donations, new regular support and supporters increasing their regular donation amount.
The RNLI added:
"This was never a fundraising campaign – we simply wanted to tell the story of our crews and make it clear that our charity exists to save lives at sea.
"Our mission is to save everyone.
"Our supporters' kindness means so much to us, without them we could not save lives at sea, every one is a lifesaver."
However, it admitted that "people have strong opinions on the subject" and that a "small number" of had withdrawn their support.
Foreign Secretary, Dominic Raab, praised the charity's work, saying they "do an incredible job, they have got this great heart and soul to them".
He added: "I think they operate within the legal rules and that is part of this country.
"We are a big-hearted country.
"At the same time, if we are talking about the wider small boats issue, that is something where, absolutely at the same time, we need to come down as hard as is humanly possible, working with our French partners."
The Prime Minister's spokesman said the government was committed to tackling the issue of small boats crossing the channel.
He said: "This rise is dangerous and unnecessary which is why we're working to tackle the issue and the gangs behind it."