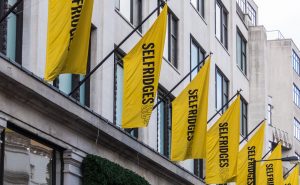 Selfridges has gone on the market with a £4 billion price tag.
The owners, the Weston family, have put the business up for auction.
It's thought the chain could have new owners by the end of the year.
It is understood that no formal bid has yet been tabled.
However, a small number of parties have already expressed an interest.
Selfridges has 25 stores worldwide.
Its flagship shop is in London's Oxford Street.
The firm was founded in 1908.
It has been run by the billionaire Weston family since 2003.